I love seeing all of the new knives get rolled out at SHOT Show, so over the next couple of days I will be posting tons of pictures and video from SHOT 2013. To start, Benchmade has released their new lineup for both Benchmade and Heckler and Koch. There are a couple of knives that I am really excited about.
Benchmade 300SN Ball Axis Flipper Knife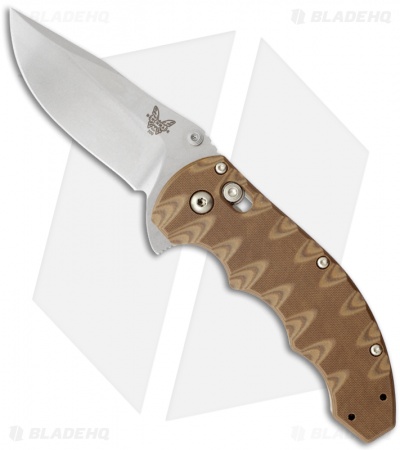 This knife is Benchmade's first flipper, and I was kind of surprised to see this knife from them. Truth be told, manual flippers have been super hot the last couple of years. Zero Tolerance, Spyderco and now Benchmade have all released their own version of the manual flipper. At first I was hesitant about an axis lock flipper, but after opening and closing this knife several times, I  have decided that I really enjoy having the flipper as an alternative opening method. It's a nice addition for those that prefer the flipper mechanism. I also really like the size of this knife (it's a bit smaller than both the current ZT offerings and the Spyderco) and it fits my hands really well.
Here is an overview video of this knife:

Benchmade 9170 Auto Triage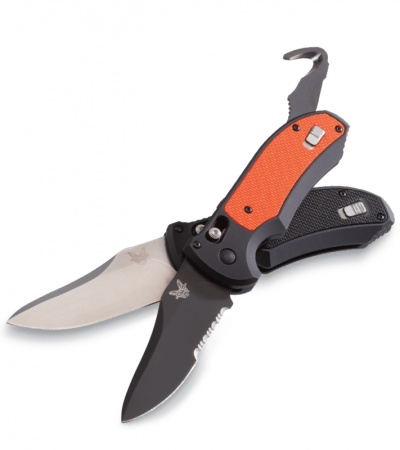 The Triage has been a very popular rescue knife for Benchmade, and now it will be offered in an automatic version. It will be a great option for those people who need the knife to deploy quicker in a pinch, or anyone who prefers the knife to open automatically.
The knife will deploy with an auto axis lock mechanism, and the rescue hook also deploys automatically. The auto version will be offered with a satin or black blade in plain or serrated edge. The blade is made from N680 steel, and the rescue hook is made from 440C. There is a G10 inlay on the knife that comes in your choice of black or orange.
Benchmade Volli 1000001 Spring Assisted Knife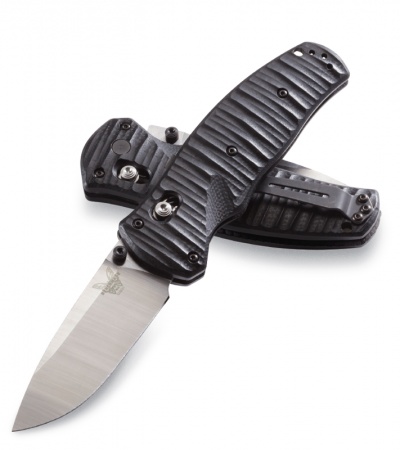 This new spring assisted knife features Benchmade's patented axis assisted opening mechanism (similar to the Barrage if you are familiar with that knife).
The blade is S30V stainless steel, and will be offered in both a satin and a black finish with a plain or serrated edge.  The handles are black G-10 that has been textured to provide a quality grip. The stainless steel liners on this knife are built into the G-10 which makes the knife thinner than some of the other options on the market. The G-10 handles also make this knife pretty lightweight at just over 4 oz.
Benchmade 162 Bushcrafter Fixed Blade Knife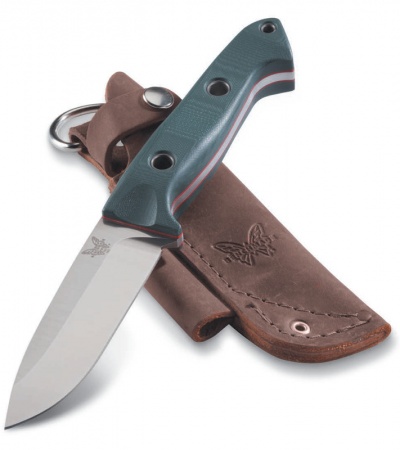 This is a full-tang fixed blade knife built for use in the outdoors. Until now, Benchmade hasn't had many knives that could be classified as a survival knife; they have previously been a more tactical brand with combat fixed blades. I think that this knife is a really good value for a survival knife.
The steel on this blade is S30V stainless steel which will hold up in any survival situation. I also personally like the look of the green G-10 on the handles, with the red liners. The contour of the handle is really nice, and the knife feels great in the hand.
This knife also comes with a buckskin leather sheath with a loop for a firestarter.
H&K MP5 Automatic Knife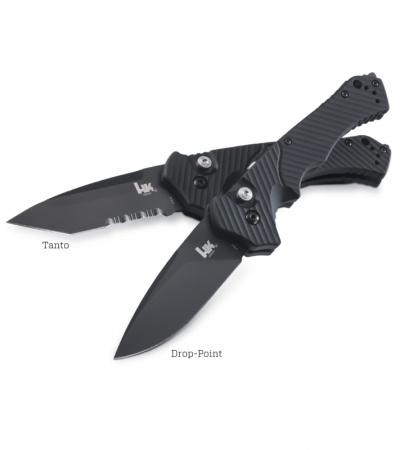 Benchmade has moved the "Nonconformist" automatic knife that was previously part of the Harley Davidson lineup to the H&K line. It has now been named the MP5. For those that can remember farther back, this knife was originally modeled after the Mini-Ruckus. The MP5 knife is the same as the Nonconformist aside from the branding change.
As a refresher, the handles are T6 anodized aluminum. The steel on the blade is 154-CM with the choice of a tanto or drop point style in plain or serrated edge.
H&K Plan D Fixed Blade Knife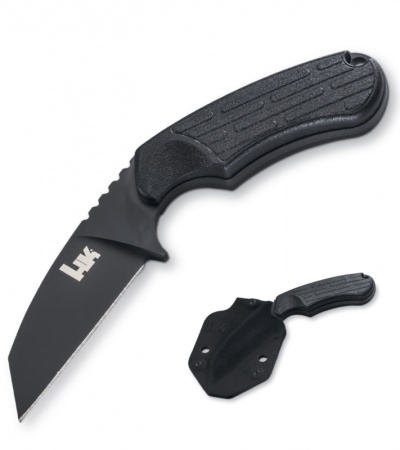 The H&K Plan D gets its name from its resourcefulness. Sometimes you have to resort to Plan D, and this knife was designed as a backup tool for sticky situations.
The Plan D features a useful wharncliffe blade and N680 steel. The handles are made from grivory, which help to make it super light (only 2.4 oz). You can stick the knife on your pack or wherever and forget about it until you need it.
H&K P30 Spring Assisted Knife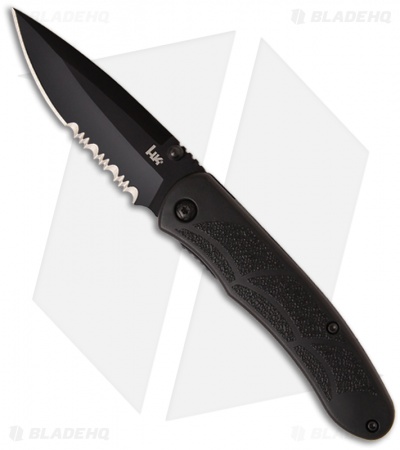 This H&K P30 is similar to the model that is already in the lineup, but this one has a spring assisted mechanism. The spring assisted mechanism is the same as in the Benchmade Aphid knife.
H&K is also releasing a kubaton that will be available in black and pink.
This video is a nice recap of these models: